Foi descoberto um buraco na Antárctida por
uma equipa de investigadores da Universidade de Toronto e do Observatório para o Clima e Carbono nos Oceanos do Sul, que estavam a monitorizar a área com tecnologia satélite, depois de um buraco semelhante ter aparecido no ano passado.
O chamado Mar de Weddell, na região da Antárctida, é considerado o mais limpo do mundo por pesquisadores. Parte da área é ocupada por uma plataforma de gelo, denominada
Filchner-Ronne
(ou apenas
Ronne
), em homenagem a dois exploradores.
Plataforma de gelo
Filchner-Ronne
A área congelada, de 442 mil quilómetros quadrados, permanece desta forma durante todo o ano. Melhor, permanecia. Cientistas identificaram a semana passada um buraco maior do que a área dos Países Baixos, na
plataforma.
O buraco conhecido como "
polynya
" tem cerca de 60 mil quilómetros quadrados, maior do que a Holanda, e é a maior "
polynya
" descoberta naquela zona.
A "
polynya
" é uma grande área livre de gelo, uma espécie de lago, que se desenvolve no interior do mar gelado.
"Durante o inverno, estivemos nesta área de mar aberto
mais do que um mês
", disse à National Geographic, Kent Moore, professor de Física da Universidade de Toronto
A violência do inverno naquela região torna difícil encontrar buracos como este, sendo praticamente impossível estudá-los.
Este é o segundo ano em que uma "polynya" se forma, mas a do ano passado não tinha estas dimensões.
As águas profundas são mais quentes e salgadas do que na superfície. Quando as correntes de água quente chegam ao topo, derretem o gelo, formando uma "polynya". Assim que este buraco se abre, expõe a água às temperaturas atmosféricas, dificultando assim a criação de uma nova camada de gelo à superfície.
Quando a água quente arrefece, em contacto com as temperaturas frias da atmosfera, afunda-se e volta a aquecer nas áreas mais profundas, permitindo que o ciclo continue.
A equipa de investigadores está a tentar compreender o que levou à formação destes buracos tantos anos depois do último avistamento, sendo para já impossível relacionar este tipo de acontecimentos com o aquecimento global.
Sea Ice contours from AMAR2 ASI NASA
credits: Modis-Aqua via NASA
A mysterious hole as big as the state of Maine has been spotted in Antarctica's winter sea ice cover.
The hole was discovered by researchers about a month ago. The team, comprised of scientists from the University of Toronto and the Southern Ocean Carbon and Climate Observations and Modeling (SOCCOM) project, was monitoring the area with satellite technology after a similar hole opened last year.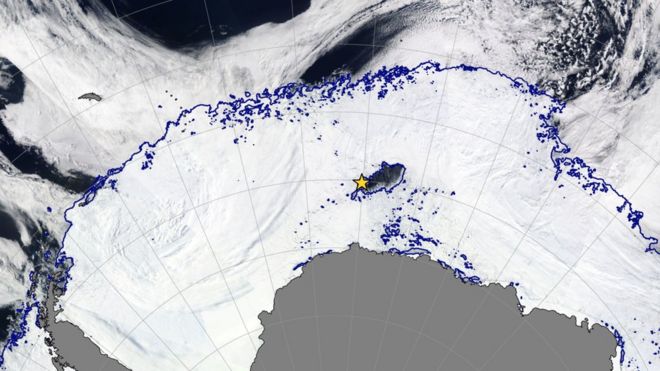 Sea Ice contours from AMAR2 ASI NASA
credits: Modis-Aqua via NASA/
SOCCOM
Known as a polynya, this year's hole was about 30,000 square miles at its largest, making it the biggest polynya observed in Antarctica's Weddell Sea since the 1970s.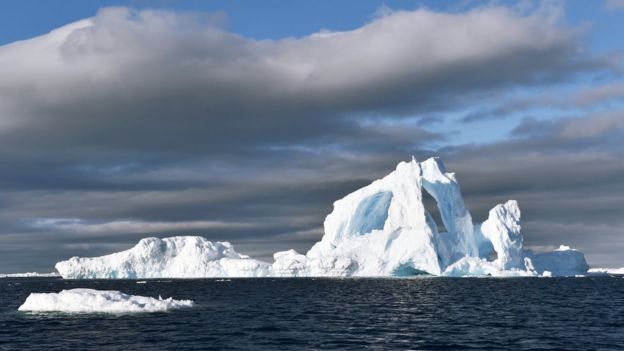 credits:
Dr P. Marazzi/Science Photo Library
"In the depths of winter, for more than a month, we've had this area of open water," says Kent Moore, professor of physics at the University of Toronto. "It's just remarkable that this polynya went away for 40 years and then came back."
The harsh winter in Antarctica makes it hard to find holes like this one, so it can be difficult to study them.
This is the second year that a polynya formed, though last year's hole was not as big. Scientists knew to monitor the area for polynyas this year because of last year's discovery. Read more
JN/ Mundo/ BBC/BR/ National Geographic