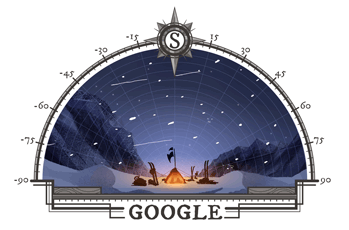 Google Doodle 105th anniversary of
1st expedition to reach the South Pole
Foi há 105 anos, no dia 14 de Dezembro de 1911 que
Roald Amundsen
, o explorador norueguês, chegou pela primeira vez ao Polo Sul. Ele e mais 4 homens.
Google dedica um Doodle interactivo a chegada de Roald Amundsen e sua equipa ao Pólo Sul. O Doodle representa uma espécie de foto do momento, em que se acendem as brasas de uma fogueira para combater as baixas temperaturas, encabeçada pela bandeira norueguesa.
Roald Amundsen no Pólo Sul
O plano inicial do explorador era
chegar ao Árctico e só depois conquistar o Pólo Norte, recorrendo-se de um navio capaz de navegar no gelo. Assim, depois de garantir financiamento e de obter as licenças necessárias, Roald Amundsen e o grupo de exploradores que o acompanhou partiram à conquista.
creditos: Autor não identificado
Puxados por um
trenó com cães e póneis siberianos, consta que mantiveram durante a viagem o bom espírito de aventura, contando histórias, tendo sido essa a
chave do sucesso para suportar as baixas temperaturas
. Claro que a a excelente organização de Roald Amundsen também muito contribuiu.
Depois de atravessar 1 400km de gelo durante quase 2 meses, juntamente com outros 4 noruegueses e 52 cães,
Admundsen
chegou a 14 de Dezembro de 1911 ao Pólo Sul e colocou uma bandeira do seu país no coração da gelada Antárctida.
Os animais que sobreviveram e que tiveram um papel decisivo na jornada de conquista do Pólo Sul, foram homenageados em 2010 ( quase um século depois), tendo os seus nomes sido colocados na carta aeronáutica (em pontos estratégicos) da rota entre a Nova Zelândia e a Antárctida.
Um gesto simbólico mas que fez justiça a estes não menos heróis que Roald Amdusen e os seus 4 companheiros.
Porém, a missão não era fácil. Além das dificuldades inerentes a uma primeira expedição ao Pólo Sul, o norueguês enfrentava outros 'concorrentes', que procuravam igual feito.
O britânico Robert Falcon Scott viria a chegar ao Pólo Sul dias mais tarde. Mas, naufragou no regresso e todos morreram.
Corria o ano de 1909. O norueguês decide então mudar o destino em completo segredo. Nem os companheiros sabiam para onde iriam viajar e prepara então um plano de expedição ao Pólo Sul.
A expedição inicia-se em Julho de 1910, com a tripulação a pensar que seguia para o Árctico. Estabelecem base na Baía das Baleias na Grande Barreira de Gelo e preparam a missão.
Depois de uma falsa partida que quase terminou em desastre, Amudsen e os seus companheiros partiram para o Pólo Sul em Outubro de 1911, chegando à Antárctida, Pólo Sul, no dia
14 de Dezembro de 1911.
O projecto foi bem sucedido e a expedição recebeu amplos elogios, acompanhados também de críticas ao norueguês por ter mantido o secretismo.
Roald Amundsen ficou assim na história como o líder da primeira expedição a chegar ao Pólo Sul, num acto de muita coragem. E é esse feito histórico que Google hoje homenageia com o Doodle.
105th anniversary of 1st expedition to reach the South Pole
Today marks the 105th anniversary of Roald Amundsen's expedition to the South Pole. Known as "the last of the Vikings," Amundsen was a lifelong adventurer with a gift for organization and planning.
In honor of that achievement, Google celebrates it with an interactice Doodle that depicts the crew at the finish line, taking a moment to bask in the glory while the Antarctic wind whips outside their tent.
"Victory awaits him who has everything in order," wrote Amundsen, and his South Pole journey was the perfect illustration of that principle.
Roald Amundsen and his dogs
The dogs - along with the use of skis to cross treacherous terrain - were key to the team's success. And like their canine companions, the explorers knew that playfulness could help them endure the extreme conditions on the icy frontier.
While prepping from Framheim, their base camp in the Bay of Whales, the team maintained a sense of fun. They held guess-the-temperature contests, celebrated birthdays, and told stories.
Amundsen's fishing

boat called the

Gjoa
.
The true destination was only revealed to them when their polar exploration ship, Fram , was leaving their last port of call, Madeira.
On arriving in Antarctica, Amundsen made his base, which he named "Framheim", in the Bay of Whales on the Great Ice Barrier.
When a subset of the crew made the final trek to the South Pole in December of 1911, their camaraderie and careful preparation helped them win the race to "the bottom of the world."
His expedition party consisted of 19 people and nearly 100 Greenland sled dogs. The dogs - along with the use of skis to cross treacherous terrain - were key to the team's success.
Like their canine companions, the explorers knew that playfulness could help them endure the extreme conditions on the icy frontier.
Recent historians have more fully recognised the skill and courage of Amundsen's party. The permanent scientific base at the pole bears his name, together with that of Scott.