A temperatura no Polo Norte devia estar a descer nesta altura do ano, mas está a subir. A causa é uma massa de ar quente que está a impedir a formação de gelo no Oceano Árctico
As actuais 'bizarras' temperaturas elevadas no Árctico,
influenciadas pelo calor acumulado nos oceanos e pelos ventos do norte, têm sido reforçadas pelo 'cír
culo vicioso' das alterações climáticas, afirmam cientistas.
A temperatura acima do gelo polar tem excedido a média entre nove a 12 graus Celsius (ºC) nas últimas semanas, de acordo com os dados registados pelo Instituto Meteorológico Dinamarquês (DMI, na sigla em inglês), que anota as mudanças horárias na temperatura do Árctico.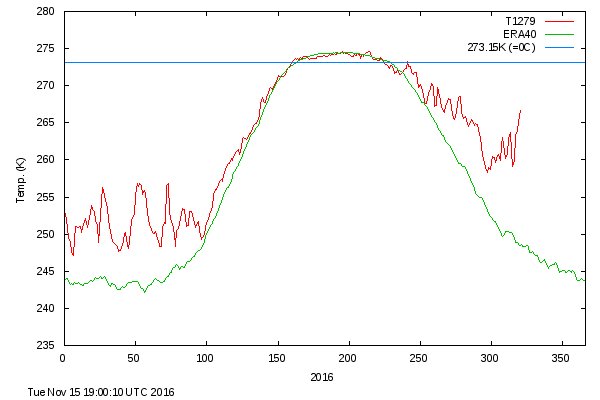 Um gráfico publicado pelo investigador Zack Labe, um especialista nas questões do Árctico da Universidade da Califórnia, mostra a evolução da temperatura ao longo do ano.
A linha vermelha, que indica a temperatura média do ano ao longo dos dias de 106, "continua a seguir na direcção errada", escreve no Twitter o investigador, sobretudo se comparada com a linha verde, que representa a temperatura média esperada.
Vejam na conta Twitter de Zack Labe o gif animado acerca da perda de gelo no Árctico.
A especialista Jennifer Francis, da Universidade Rutgers, da New Jersey, explica ao The Washington Post que as temperaturas estão "cerca de 20ºC mais quentes do que o normal na maioria do Oceano Árctico", o que está relacionado com "anomalias da mesma magnitude sentidas na Ásia central e do norte".
Imagem obtida usando um climate reanalyzer
Climate Change Institute/University of Maine
Para a investigadora, "o aquecimento do Ártico é resultado da combinação de uma extensão de gelo muito baixa, com níveis recorde para esta altura do ano, o que torna, provavelmente, o gelo muito fino, com muito ar quente e húmido que vem de latitudes mais baixas".
Segundo a investigadora, a corrente que leva grandes massas de ar quente para a região polar tem aumentado à medida que a própria temperatura polar também aumenta.
Vários investigadores ouvidos pelo jornal norte-americano concordam: a situação é preocupante, mas é explicável pela referida massa de ar.
"Há um forte movimento de calor em direcção ao Árctico, especialmente para o centro e norte do Canadá"
James Overland, Administração Oceânica e Atmosférica Nacional, dos EUA
O cientista acrescenta que também o Atlântico e a Sibéria oriental estão a ser afectados por este aquecimento, por se encontrarem no caminho da massa de ar.
Já Zack Labe, que partilhou o gráfico, considera que este aumento representa um padrão pouco comum, devido à "persistência e à magnitude das anomalias de temperatura".
National Snow and Ice Data Center
It's polar night there now — the sun isn't rising in much of the Arctic. That's when the Arctic is supposed to get super-cold, when the sea ice that covers the vast Arctic Ocean is supposed to grow and thicken.
In fall of 2016 — which has been a zany year for the region, with multiple records set for low levels of monthly sea ice — something is totally off. The Arctic is super-hot, even as a vast area of cold polar air has been displaced over Siberia.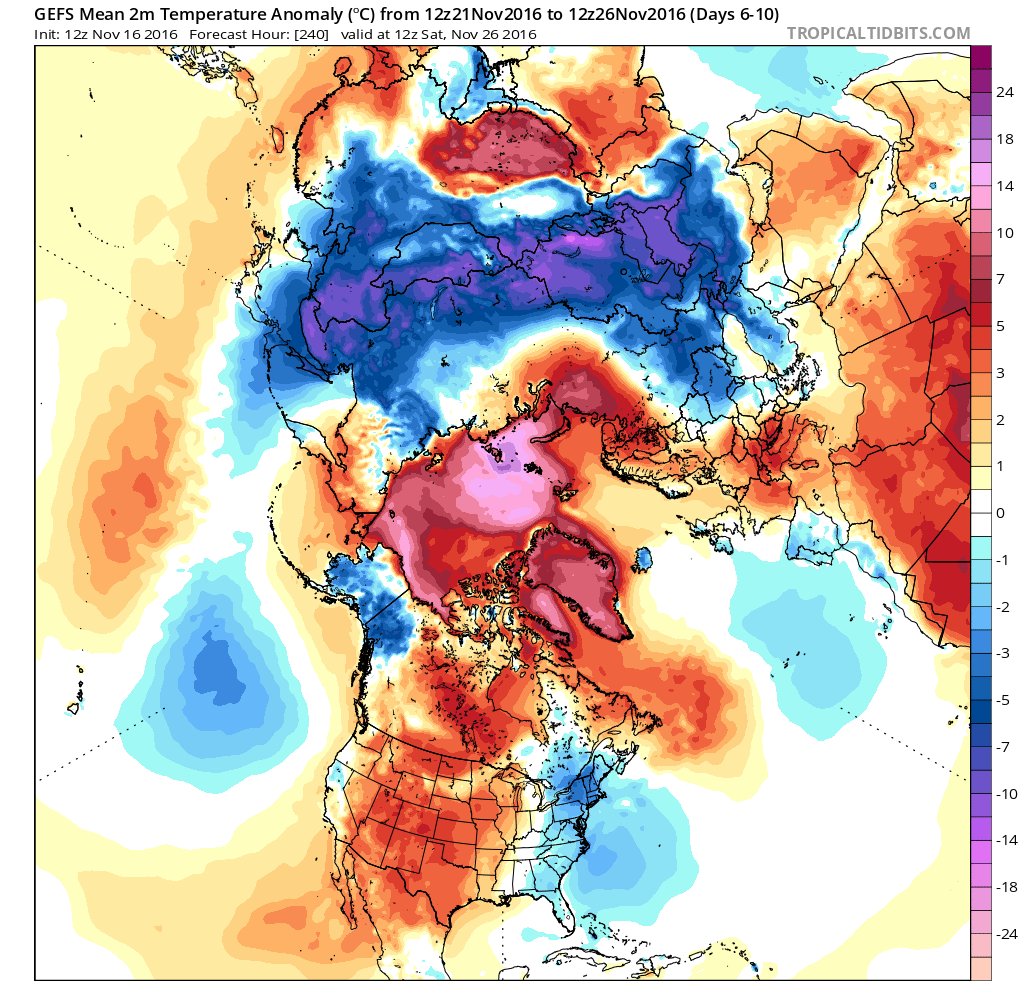 This is the second year in a row that temperatures near the North Pole have risen to freakishly warm levels. During 2015's final days, the temperature near the Pole spiked to the melting point thanks to a

massive storm

that pumped warm air into the region.
The situation this winter could set the Arctic's ice up for very thin conditions and a possible record low next year, Mark
Serreze (
National Snow and Ice Data Center in Boulder, Colo.)
said, although it's too soon to say.
The weather in the Arctic can change swiftly. Temperatures could cool and the ice could rebound.
But the record-low sea ice extent and unprecedented warmth in the region fit in well with recent trends and portend even more profound changes in the coming years. Read the full arcticle here
Sources: Observador/Ciência
The Wahington Post/Energy & Environment